A brand new adventure concept favouring slow, immersive experiences that engage with remote, wild and nature-rich places was revealed yesterday at an exclusive launch event in the Walled City Brewery in Derry.
Aptly named, 'slow adventure' fosters an engagement with nature and provides an opportunity to not only partake in an activity but also to learn aspects of the local area such as the produce, wildlife and environment.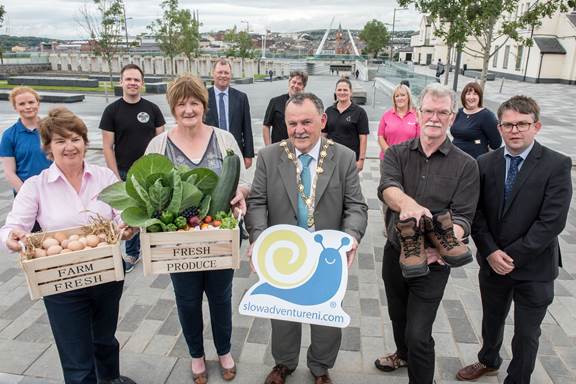 Over ten new visitor packages have been put together by thirteen local tourism businesses from the Derry and Strabane area and are now available to experience. Each package has been carefully crafted to make your introduction with slow adventure as memorable as possible. You can now walk through the Glenga Valley in the heart of the Sperrins foraging for food along the way, bake your own bread the traditional way in the farmhouse kitchen of Bradkeel Social Farm, see how artisan cheese is produced or have a go at traditional fishing on the River Foyle and cook your catch on a wild camp fire. Other packages include interactive cooking demonstrations with local hand-picked ingredients, Irish walking tours, horse riding in the Faughan Valley as well as deer stalking, bird shooting and salmon fishing in Strabane.
Visitors to the Derry and Strabane area can experience these new slow adventure packages over the weekend of Saturday 23rd and Sunday 24th September as Derry City and Strabane District Council host the first ever 'Slow Adventure Weekend'.
The Mayor of Derry City and Strabane District Council, Councillor Maolíosa McHugh "The council are delighted to bring this new adventure concept to Northern Ireland and more specifically to Derry, Strabane and the surrounding rural areas. We are the first and only area in Northern Ireland to offer slow adventure experiences and believe it is an amazing way to journey through the breath-taking landscapes and engage with the wilderness and nature".
This new concept has been introduced to Northern Ireland as part of a transnational programme to promote slow adventure in Scotland, Norway, Finland, Sweden, Iceland, Ireland and Northern Ireland. The Slow Adventure in the Northern Territories, or SAINT Programme, is a three year programme with support from The Northern Periphery and Arctic 2014-2020. The Northern Irish project partner, Derry City and Strabane District Council, has been working with local tourism businesses since September 2015 to create the new slow adventure packages using their learnings from the other destinations across the world also involved in the programme.
Visit www.slowadventureni.com to see what's on offer during this year's Slow Adventure Weekend and throughout the year to start planning your next adventure!
The local businesses offering the new slow tourism packages are:
White Horse Hotel, Derry
Beech Hill Country House Hotel, Derry
Finn Valley Cottages, Clady
River Mourne Guides, Strabane
Butterlope Farm, Plumbridge
Derry Equestrian, Derry
Far and Wild, Derry
Inish Adventures, Moville
Walled City Brewery, Derry
Bradkeel Social Farm, Plumbridge
Tamnagh Foods, Claudy
Wild Strands, Derry
Landscape and Countryside Tours, Derry