Issam Horshi, Local Hotelier of The White Horse Hotel, awarded an MBE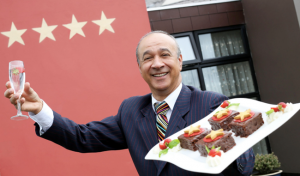 The Management and Staff of The White Horse Hotel are delighted that our gregarious and hard working Hotelier, Issam Horshi, has been include in HM The Queen's 90th Birthday Honour List.
Issam is thrilled to have been recognised for his Services to The Tourism Industry in Northern Ireland. He has dedicated the last 32 years of his life to being a profitable member of the Community in Derry-Londonderry having been born in Beirut, and learnt the Hospitality trade in London with his wife and business partner, Liz.
A passionate advocate for Northern Ireland, Issam believes that as well as being home to some of the kindest and friendliest people he has met, it also has amazing history, heritage, geography, sign-seeing, food, hospitality and diversity. He has worked for a number of organisations to help people outside Northern Ireland and beyond see the beauty of our little country through his eyes. He has acted as President of The Hotel Federation, worked tirelessly for local charities and been a long term and diversity aware employer.
It is with great pride that Issam accepts this unanticipated honour. He intends to use it to continue to put Derry-Londonderry on the Tourist Map.