GAME OF THRONES – 1 Self Drive day Trip from The White Horse Hotel
Take one of our delicious picnics and head out for a Game of Thrones self drive tour of some stunning scenery along the Causeway Coast.
Drive to Binevenagh Lake (30 minutes from White Horse Hotel)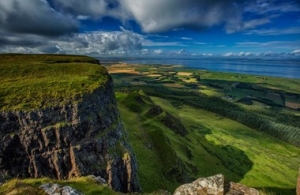 Atop Binevenagh Mountain in an area of outstanding natural beauty, the last mile of the road is gravelly, but you open into a stunning scene with views across the sea and coast line. This was the filming location of many of the dragon scenes in GoT– it most famously  was  used as the Dothraki Grasslands in season 5, where Daenerys Targaryen was rescued by her dragon.
It can be damp underfoot if there's been rain recently, so wear appropriate footwear. You can follow trails along the cliff edges, walk around the lake or do a longer walk such as this if you're feeling active.
https://discovernorthernireland.com/Binevenagh-Mountain-Walk-Limavady-P2126/
Drive to Downhill Strand – 20 minutes drive
Sandy beach that you can drive onto, this is where Melissandre burnt the effigy of the 7 Gods (season 2).  A Blue Flag beach with beautiful views and soft sand, you can see Mussenden Temple perched on the cliffs above you. This is a national trust property that can be added to your day out if desired. Please check their website for information and charges.
https://www.nationaltrust.org.uk/downhill-demesne-and-hezlett-house
Drive to Dunluce Castle –– 30 minutes drive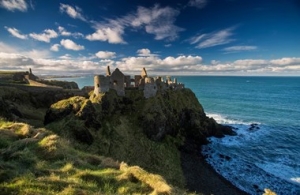 Dramatic Medieval castle ruins on the North Coast seacliff, entry is charged (£6 per adult). This site forms Castle Greyjoy in Game of Thrones as well as having its own fascinating history and tales of banshees to boot.
Check out their website for up to date information on opening and pricing.
https://discovernorthernireland.com/Dunluce-Castle-Medieval-Irish-Castle-on-the-Antrim-Coast-Bushmills-P2819/
Carrick-a-rede Rope Bridge – 20 minutes drive
This is the location of Renly's camp in the Stormlands.  A national trust site, you can cross the rope bridge 30 metres above the sea to explore Carrick Island and its stunning scenery and wildlife.  First built by fishermen nearly 300 years ago it's a famous site on the Causeway Coast in its own right and crossing the bridge adds that Game of Thrones adrenaline to your day.
Read more about the bridge and charges here…  https://www.nationaltrust.org.uk/carrick-a-rede
Ballintoy Harbour – 5 minute Drive
Stand looking out to sea and you believe you are on the Iron Islands. This vista was used for many scenes –  Theon coming ashore on Pyke Island, Theon dedicating his faith to the 'Drowned God', Ser Davos seeking the help of Salladhor Saan for the Battle of Blackwater Bay and Gendry escaping Dragonstone in a rowing boat.
https://discovernorthernireland.com/Ballintoy-Harbour-Ballintoy-Ballycastle-P11983/
Dark Hedges – 20 minute drive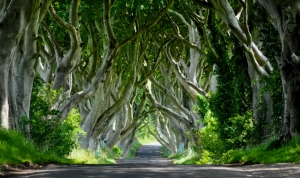 Photo stop at the haunting avenue of beech trees, through which Arya and Gendry escape King's Landing.
https://discovernorthernireland.com/The-Dark-Hedges-Stranocum-Ballymoney-P27502/
Return to White Horse Hotel – 1 hour drive
NOTES : Allow 1 full day. Check opening times and information of sites before departure. Some sites are chargeable and may need to be pre booked.
Picnic Lunches and Snacks available from The White Horse for your day out. Prepare for the weather and note that travel times may differ according to conditions.