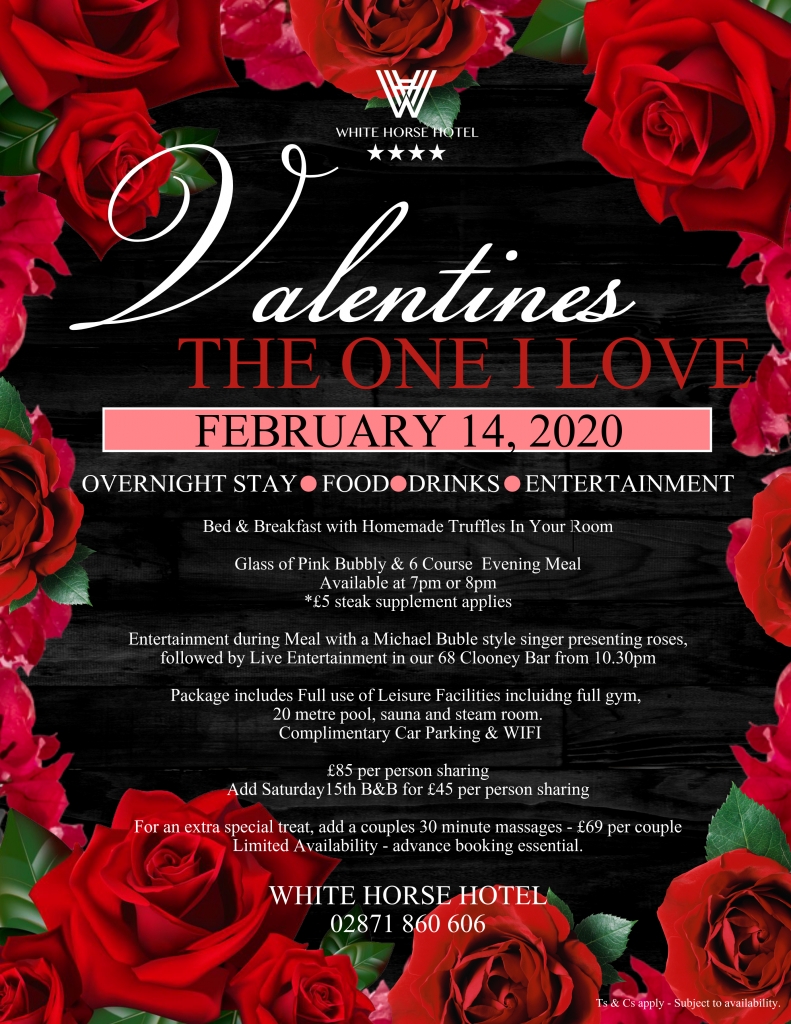 The Valentine's Menu – 14th February
Glass of Pink Fizz
*****
Mini 'Rough Brothers' Local IPA  Wheaten Bread Loaf with butter & a shot of Walled City Brewery 'Foyster', a local Stout made with native Lough Foyle Oysters
*****
Brie for 2 to Share – A baked brie dressed with herbs and served with fresh bread to dip
White Onion Soup with a Beetroot Soda Bread Crouton
Super Food Salad of Quinoa, Sweet Potato, Avocado, Pomegranate, Black Tea Soaked Chickpeas and Goji Berries with Chef Dressing (Vegan)
Local Lo&Slo BBQ Sauce Mini Mid Ulster Pork Ribs served with Coleslaw
Smoked Salmon Roulade with Basil Cream Cheese and Lightly pickled Salad & Beetroot Dressing
*****
Passionfruit Sorbet
*****
Chicken En Croute Cordon Bleu – Chicken Stuffed with Northern Irish gammon and mozzarella and baked in puff pastry. Served with a Mustard Grain Cream Sauce
Pan Fried Fillet of Donegal Hake served with Prawn Thermidor Sauce and Crispy Squid
Hereford 10 oz Sirloin Steak, cooked to your liking and served with a Pink Peppercorn Sauce – £5 supplement
Vegan Vietnamese Pho with Pulled Oats
Main Served with your choice of Chips, Champ, Garlic Potatoes, Winter Roasted Vegetables or Side Salad
*****
Chocolate Fondue for 2 to share. Warm melted chocolate with fruit kebabs, marshmallows, homemade honeycomb and ice cream.
Zesty Lemon Cheesecake on a buttery biscuit base with Fresh Cream
Apple and Blackberry Sponge served warm with custard
Rich Chocolate Brownie (vegan)
Selection of Irish Cheeses with Water Biscuits and Chef's own chutney
*****
Tea or Coffee served with homemade fudge & shortbread hearts
Please advise your server of any dietary requirements.